We recently went to see the unveiling of a bust of celebrated author Jerome K Jerome who was born in Walsall in 1859 and lived there for almost two years before his fathers business collapsed and they moved to London. He rarely came back but in 1926 was made a Freeman of the Borough. He died the next year but I don't think there is a connection!
I have included him as I am not only a PAN Fan but also of Jerome and have a large collection of his works and in fact one of his stories 'The Dancing Partner' appears in PAN X71 'Alfred Hitchcock Presents'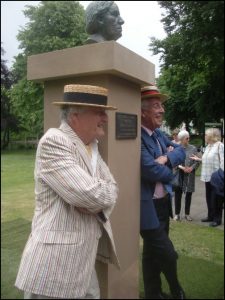 The chairman of the Jerome K Jerome Society, Tony Grey, is on the left and the bust was unveiled by local lad Jeffrey Holland on the right.
So from the birth of JKJ to a trio of books about the other end of life, 'Famous Last Words', 'A Small Book of Grave Humour' and 'Dead Funny, Another Book of Grave Humour' The latter two are rare examples of shaped books as I was told it was very expensive to do die cutting. Other examples are James Bond titles like the bullet holes in 'Thunderball' and the film strip on "From Russia With Love'
Off down to Wiltshire this week to meet up with Maurice Flanagan at Zardoz Books, report next blog