I'd like to say a very big 'Thank you' to Maurice Flanagan (and his wife) of Zardoz Books for the time and hospitality he gave my wife and I last Monday and Tuesday. We called round at his house where we saw all of his David Tayler roughs for PAN book covers plus dozens of other artworks for numerous publishers. After tea and biscuits we followed Maurice to the 'secret location' of his very large book warehouse stuck at the end of a lane in a delightful rural location. We parked up and spent the night of the summer solstice in Maurice's field by his 'man cave' next to the warehouse. My only regret was the next day when Maurice reminded me as to how close we actually were to Stonehenge at this auspicious time, I could have gone and relived my hippy youth!
Spent so long looking at books that I forgot to take many photos but here is a montage of a few.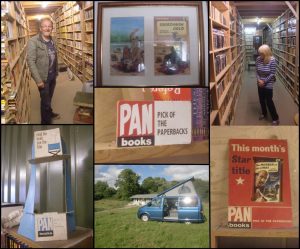 Top left – The man himself, Maurice Flanagan.
Middle Top – A poor photo showing a Tayler rough that was censored on the actual book cover – no blood!
Top right – Even my wife was fascinated by the amount of books.
Bottom left – A PAN display stand
Bottom right – Another PAN display stand
Middle – Something I just have to agree with.
Bottom middle – Parked up in brilliant sunshine after rain all the way down.
After showing the 12 Leslie Thomas covers by Paul Davies I found three from around the same time but with a squiggle by the drawing on the cover which I eventually twigged was G S for Glenn Steward. The picture on the front at the top continues over to the bottom on the back. I thought I'd be clever and join the two halves together not realising a large part must have been trimmed off so I've 'recreated' the missing bits. See them HERE
Finally I'm not usually into politics but I'd like to go on record as saying I voted to join the EU 40 years ago and now I've voted to remain in it. Just to say when it all goes horribly wrong it was nothing to do with me (if it doesn't I'll just keep quiet!)