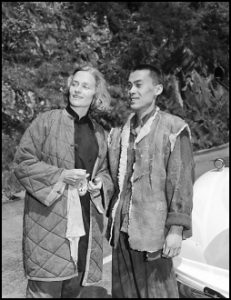 Gladys Aylward is probably best known for her work in China through the book 'The Small' Woman' by Alan Burgess. It was filmed in 1958 as the 'The Inn of the Sixth Happiness' starring Ingrid Bergman as Aylward. It also featured a very young 28 year old  Burt Kwouk as Li and most of the filming was done near Bedgellert in North Wales where in 2004 Kwouk returned to unveil what was the first of many plaques for the 'North Wales Film and Television Trail' PAN also published 'A London Sparrow' by Phyllis Thompson in 1972 jointly with Word Books.
Just sorting out titles jointly published by PAN and Ballantine (I'm not including the 130 war books possibly published by them in the 70's) and today I'm including a couple from 1973 in the 'Deryni' trilogy with covers by Bob Pepper. For some reason or other the last volume 'High Deryni' was only published by Ballantine in 1976.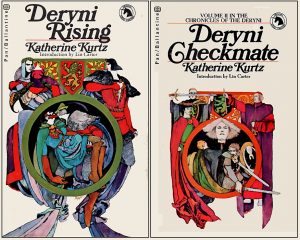 …… and finally, over the years, I've been looking for a couple of 'Modesty Blaise' tiles from 1979/80 which never seem to come up until last week when they both appeared at a price I was happy to pay. I've added them to the page but again it's another that needs all the cover rescanning at a larger size – one day ….!