Having made a bid on some pen and ink drawings by Faith Jaques I was most surprised to find nobody else was interested. They were the illustrations for a couple of stories in Leon Garfield's 'London Apprentices' series namely 'The Fool' and 'Rosy Starling' They were originally used in the Heinemann editions of 1976 and then in the four books published by PAN Piccolo in 1979. Her obituary in 'The Independent' stated …..
I was amused, or is that amazed, to see some of the prices being asked for Book 4.
Interestingly PAN spells Faith Jaques name incorrectly as Jacques.
---
A while ago I was sent photos of the artwork for two covers, one from Sam 'PEFF' Peffer featuring Kitty Peffer as confirmed by Sam and the other was by J Oval (ben Ostrick) I've added it to the pages for 'The Case of the Negligent Nymph' by Erle Stanley Gardner and 'Where The Boys Are' by Glendon Swathout
---
Always on the look out for PAN covers in different places and this week we have two examples and one with a PAN connection. The first of the two from films is 'Strictly For The Birds' a 1964 British comedy film directed by Vernon Sewell and starring Tony Tanner, Joan Sims and Graham Stark The second is 'Poor Cow' a 1967 British kitchen sink drama film directed by Ken Loach and starring Carol White and Terence Stamp.
The third reference is to the 'Hooded Swan' as used in the three covers for the Brian Stableford trilogy by Angus McKee. The particular cover shown as a backdrop for Ballet Zoom in Spain is the one used for 'Promised Land'
---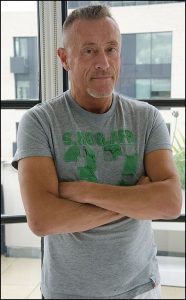 I was sorry to hear of the passing of Christopher Fowler (26/03/1953 to 02/03/2023) He was the multi award-winning author of many novels and short story collections and his first bestseller was 'Roofworld'. Subsequent novels include 'Spanky', 'Disturbia', 'Psychoville' and 'Calabash'. He is probably most well know for his 20 or so 'Bryant and May' detective titles. He also wrote a story that appeared in 'The 28th PAN Book of Horror Stories'